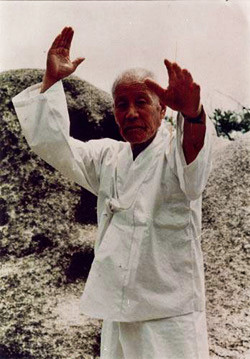 My master Song Duk-ki, who spent his last days with Taekyun and archery! He is the last Taekyun Kkun of Joseon who survived the era of turbulence and stayed alone to pass down Taekyun, our precious culture, to the coming generation. As for him Taekyun still lives on, he is the eternal master of every Taekyun Kkun on this land. I only know him for the short 4 years I took care of him, so it is quite a heavy burden to write about him. I could not master learning Taekyun from my master, and I also still do not fully understand the profound meaning of Taekyun beyond it, so I am afraid that writing about him might become a disgrace to him. Thus, I will try my best to only deliver the stories from master Song and what I witnessed, instead of my opinion, and attempt to be a help to those who love Taekyun and our culture.
'The late Song Duk-ki' was born on June 19th, 1893 (it's 1896 on his family register but he said the register is wrong) in today's Pilund-dong, next to Sajik part, Seoul(Pilun-jeong 35, Kyungsung-bu), under 'Song Tae-hee' who was a government official, as the last child of 2 sons and 3 daughters (it's said the last child of 7 sons and 7 daughters in research and data by the Office of Cultural Properties, but that is incorrect).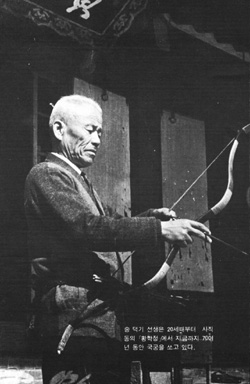 Although his father was a government official, he was a low-ranking official and the country was in disorder, but his mother(Ms.Kim) had side jobs like working in a store, so he spent his childhood in plenty. Pilun-dong, Seoul, where he was born, and other nearby places like Sajik-gol, Nusang-dong, Nuha-dong are where Taekyun lasted until the very end and prospered the most, even called 'Bonteo Badak', so he was able to mingle with others and naturally practice Taekyun from his early childhood. From the age of 12, he started to properly learn Taekyun with another 10 children of his age from 'Master Im Ho' who was the most well known Taekyun Kkun of that time and lived at where today's Baehwa Girl's high school is located(Pilung-dong). Master Im Ho not only excelled in Taekyun but also was a man of great strength, so was called 'the tiger of Inwang Mountain'. He was 20 years older than Song Duk-ki, reticent, and gentle, but was very strict when teaching. Song Duk-ki's Taekyun improved a lot under master Im's teaching, so by the age of 16, he started to make his name by battling in 'Kyulyun Taekyun Pan(the name for the Taekyun match)' of places like Yugak-gol, ok-dong, and Aeogae, representing Sajik-gol. He was small in stature, but his moves were quick and accurate. He was especially popular for his Sotguchyeo Chagi(Spring Kick). He continued learning Taekyun from Master Im Ho for the next 10 years until his family stopped him.
At the age of 17, he got married (for several reasons, he was able to register marriage in 1937, at his age of 45), then was drafted into the army. Since he only needed to attend the army twice a week, he still enjoyed Taekyun and participated in Kyulyun Taekyun Pan. He also learned soccer that was introduced around that time. After the Japanese annexation of Korea, however, as the suppression by Japan grew, Kyulyun Taekyun which contained our militaristic spirit, was forbidden including individual training of Taekyun.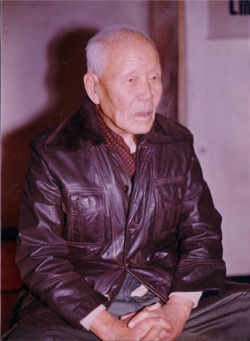 Even his family dissuaded him from training Taekyun, so it was hard to continue his training. His family disliked him training Taekyun, not only because they feared he might get caught by the Japanese police but also because they worried he might end up being a fighter. So after stopping his training, he began to learn archery, and at the age of 22, he trained Korean archery at 'Hwanghakjeong(黃鶴亭)', an archery place near his house. He was known as an expert archer and the person who shot arrows for the longest as he shot until a few years before his decease. He was also introduced as the first judge of Korean archery in 'the Book of Korean(1982)'. With his innate athletic ability, he taught modern gymnastics like a pull-up bar, and vaulting to the soldiers in the army and was selected as a player in the 'Joseon Buddhist Soccer Team' for 80won a month(a bag of rice was 7won 7joen at that time). He was discharged upon completing his service, and stayed as a soccer player until his age of 26, having the experience of participating in a match with the Pyongyang Soccer Team.
After quitting soccer, he wondered between works without any particular job, like the free-spirited seniors he watched from the childhood. At 40, he worked as a security guard at 'Joseon Theater' in today's Insadong-Seoul, helping his brother-in-law. During that time, there were a lot of gangsters around, so each theater needed security guards. He was able to handle the gangsters with his great skills, and it is told, he even fought with 'Kim Du Han (金斗漢, 1918-1972)'. Later he roamed around for a few years, trying to dig gold, but he was still a free spirit who enjoyed sports without any particular job. He was also a native Seoulite, living in Sajik-dong for his entire life except for two times he had to leave Sajik-dong including fleeing to Milyang, Kyungnam in the 1.4 Retreat. He was a man of few words and quite stubborn, so it was difficult to get close to him but had a warm heart. He had strong confidence and pride in Taekyun and also in himself. Everyone who knows him well agrees that the main reason Taekyun was not passed down to many people is due to his personality.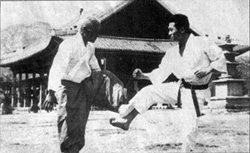 As he was unfriendly, abrupt, and stubborn, he wouldn't have taught others kindly, and it would have been hard to learn from him without lowering oneself. So many people who found him to learn Taekyun left him saying how much an old man could know, or he was bragging with a petty thing and misjudged Taekyun from their imagination. His respect, pride, and affection in Taekyun, however, was truly something extraordinary.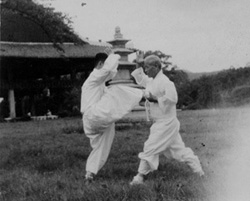 Around 1958, a police officer called 'Lee Seunggu' from Kyungmudae police station heard of Song Duk-ki and his Taekyun skill and visited him to ask to perform Taekyun in front of the president, Lee Seung Man. Since Taekyun does not consist of set forms, but rather practical martial art, he was able to perform alone. So he called 'Kim Sunghan' who once learned Taekyun from the master Im Ho together, and prepared for the performance. On March 26, 1958, 'Police Martial Arts Games for the celebration of President Lee's Birthday' was held at a 'Judo Hall' in Sogong-dong, Jung-gu. It was the performance by the last Taekyun Kkuns of Joseon. The audience, however, was too used to the Japanese style martial arts which are direct and restrained, they didn't show any interest in Taekyun which are soft and flowing like a dance. Master Song who hed such profound affection and pride as a Taekyun Kkun was disappointed.
His pride was hurt, but he tried not to care thinking what's the use of other people acknowledging the martial arts. During that time he had no sense of duty as the last artisan of the existing ethnic martial arts. So, a chance to revive Taekyun just slipped away.
Since the main reason the police officer, Lee Seunggu, asked Master Song to perform Taekyun was President Lee's personal interest in Taekyun, their connection didn't just disappear. President Lee personally liked Taekyun, but also valued Taekyun in the thought of developing our traditional martial arts. So he ordered the martial arts instructor of 'Kyungmudae(today's Cheongwadae)' who was teaching the bodyguards, to learn Taekyun and apply it. That is how the relation between Master Song and Master Park Cheolhee has started. 'Master Park Cheolhee' was born in 1933 and was the first executive director of 'Tae Soo Do Association'. In 1954 he was the first Tae Kwon Do instructor of the Korea Military Academy.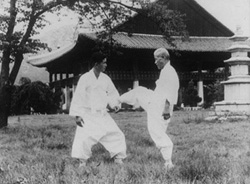 In 1956, he was the honorary martial arts instructor of 'Kyungmudae', that is when he first met Master Song. Master Park frequently invited Master Song to 'Sangmugwan(尙武館)', the training center for Kyungmudae's bodyguards, so Master Song can teach the President's bodyguards.
In 1960, 'Taekyun' was selected as one of the Korean cultures to be shown in an exhibition the Korean national team would introduce Korean culture in 'the 17th Olympic Games in Rome, Italy.' The Sports Division of the Ministry of Education asked master Song for the photoshoot of Taekyun movements. He and his trustworthy pupil Master Park went on a photoshoot to 'Kyungbokgung'. During that time, Kyungbokgung was not open to the public, but with the support from the Ministry of Education and Master Park's background as the martial arts instructor of Kyungmudae, they were able to do the photoshoot in Kyungbokgung.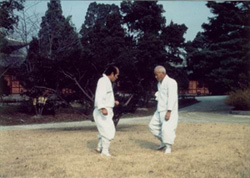 Some of the photos still remain, and those might be the oldest photos of Master Song doing Taekyun. After Master Park retired from Kyunmudae martial arts instructor, he continued liking Taekyun and tried to establish 'Incorporated Association Taekyun Mudowon'. Under Master Song's support and trust, he almost established the association, but due to the interruption by 'Subakdo Association'(according to Master Park) which held power that time, he hit the wall. He continued to carry it forward, but as events like '4.19 democracy movement', '5.16 military takeover' happened continuously and the country fell into chaos, he could not establish the association and ended up moving to the U.S. by himself, losing connection with both Master Song and Taekyun. It was a very unfortunate incident for Master Song personally for losing his great pupil, and for Taekyun itself, for losing the chance to be developed in an organized way.
'Master Kim Pyung-soo', who was the assistant of Master Park continued meeting with Master Song. Master Kim was also a native Seoulite of Sajik-gol like Master Song, and liked sports since he was little. With his experience in Dangsudo(唐手道), he had an interest in Martial arts so he kept in touch with Master Song for a lifetime.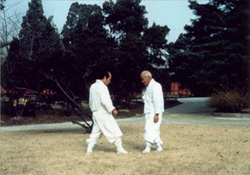 Master Kim was born in 1939 and started Dangsudo at 'Chungmugwan' which was located at which is not Kwanghwamun Post Office. He worked as an associate instructor at Kyungmudae while he was a student of the University of Foreign Studies in 1957. He met with Master Song from there. In 1958, he founded 'Taekyun Gwonbeopbu(which is now Taekwondo Department)' in the University of Foreign Studies, and a training center at the third floor of today's Orion Danbang, Hyoja-dong, next to Gwanghwamun, in 1963. During his university year, he worked as a Korean Journalist for the American Martial Arts Magazine 'Balck Belt' and in 1964 wrote an article on Taekyun for the famous American Martial Arts Magazine like 'Balck' Belt' and 'Karate Illustrate'. I think those are the first articles of Taekyun to be published overseas. On January 16th, 1968, Master Kim moved the U.S. with the desire to grow abroad. That is when Master Song lost another significant pupil.
After all the difficulties, Master Kim Pyung-soo made his name for 'Kimsoo Garate' at Houston, Texas. Houston proclaimed 'Grandmaster Kim Soo Day' in celebration of his cultural and physical contribution to the community and he is now world-class Martial ARtists with several centers around the world.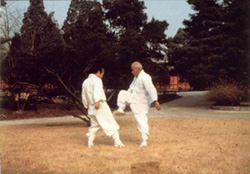 Recently, he has created new scientific martial art called 'Natural Martial Arts' and is revered by many as a successful Asian Martial Artist. A few years ago, when he visited Korea, I asked him for a seminar, and other Taekyun instructors including myself were greatly impressed by his 'philosophy of natural martial arts'. Master Kim respected Master Song, and when Master Song was still alive he visited Master Song whenever he came to Korea. In 1971, Master Kim brought one of his early pupil called 'John Coon' and introduced Master Song to him as 'the Grand Master' of Taekwondo. John Coon made a deep bow to Master Song from admiration. Master Song recalled that other elders around him who saw it yearned it and he felt pleased. In 1972, Master Im Chang-soo from Taekwondo also learned from Master Song for 2 months and left to the U.S. and in 1985, I went to the U.S. to study as well. There must have been something between Master Song and the U.S.
In 1972, Master Song was introduced as a 'living taekwondo fighter' on 'Taekwondo Fall Edition', and many people from Taekwondo came to him to learn Taekyun. They tried to integrate Taekwondo and Taekyun and lionized Master Song as a Taekwondo Master, but none properly learned Taekyun or supported Master Song's living. They just passed by like that. Some organizations or the media introduced Master Song as the grandmaster of traditional martial arts or the living witness of our culture. In 1981, he won the 'Grand Prize of Martial Arts' Arts 'the 1st Korean martial arts festival', but his living became harder and harder as he aged without any child or a pupil to support him.
From the mid-1970s, Master Shin Han-seung, came all the way from Chungju, Chungcheongbuk-do with a firm belief to set Taekyun right and learned Taekyun. Master Shin, however, was also in economic difficulty he was unable to help Master Song's living. Master Song, who was also keen with his hands, once made kites to an exporter for 500won each, and also did real estate agency but his living barely got better. It is a sad reality for the one and only inheritor of our traditional martial arts Taekyun. On December 26th, 1979, his wife passed away and his living became more lonesome. Master Shin from Chungju figured that the only way to preserve and develop Taekyun was to be designated as an intangible cultural asset, so he tried his best to designate Taekyun as a cultural asset. During that time, people lacked the understanding of traditional martial arts, and to make it more unfortunate, the Office of Cultural Properties didn't see the value Taekyun and only required more and quantity and systematic research and data.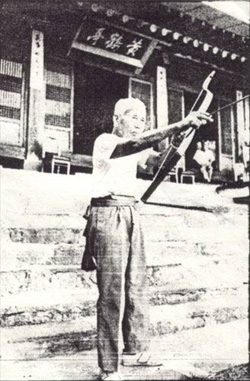 Master Shin went around the whole country to collect data and tried to fit the form by the Office of Cultural Properties required, but Master Song was not so happy about it. With his hard effort and strong belief, Master Shin was able to make a report fit to the form by the Office of Cultural Properties and Taekyun was finally designated as an 'important intangible cultural property'. It was a splendid achievement that for the first in 100 years, Taekyun saw the light of the world, but it became the very reason for the division of Taekyun in the future. It is still too early to decide which was right: Master Shin's effort to make Taekyun an intangible cultural asset for its development despite the modification of techniques, or Master Song's belief to protect and keep the original form of Taekyun, with the cost of not being designated as an intangible cultural asset.
Master Song also took the lead in solving problems of Hwanghakjeng (黃鶴亭, the number one place of Korean Archery. Located at the end of Inwang Mountain of Sajik-dong, Jongno-gu.) as the keeper where he spent his life of archery. From his young age, he scolded those who used violence or showed a lack of manner, so he was called the 'tiger of Sajik-gol'. Since his master was called the tiger of 'Inwang Mountain', he inherited the string of the tiger. Hwanghakjeong was originally located in 'Kyungheegung' and was King's archery field. After the annexation of Japan and Korea, the Japanese tried to take down Kyungheegung, so some people from archery dismantled the place and moved to today's location. Master Song was one of them so he had such strong affection to that place. A few years before his decease, he put down his bow saying that it was no more fun. Looking back now, it may have been him foretelling his coming end.
From 1982, Master Song started teaching young students with myself who was a sophomore at the start. In 1983 he was designated as a 'National Important Intangible Cultural Property No. 76 Taekyun Artisan (Human Cultural Heritage)', and to celebrate it founded a little meeting called 'Taekyun Inheritor Society(the origin of Today's Kyulyun Taekyun Association)'.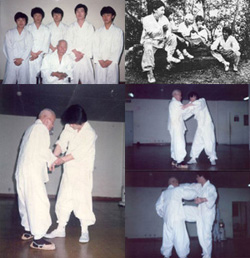 Next year, in 1984, to train in earnest, he leased 'Park Min Taekwondo studio' near his house in the early morning and later in the evening. Later as I, who played the role of the big brother amongst the pupils, left to the U.S. in 1985, the meeting among the pupils seemed to shrink with the lack of systematic management. The following year, in 1986, the youngest, called 'Choi Yugeun' who was relatively wealthy, asked his parents and opened a Taekyun training center that carries on the tradition of Sajik-gol Taekyun in Shinchon, Seoul under the name of 'Taekyun Preservation Society'. Master Song was pleased as well and tried to carry on Taekyun by teaching his young students every day from Sajik-dong to Shinchon. The center, however, suffered from chronic deficit due to the lack of public understanding of Taekyun and poor management of the students who had no experience of it. The center had to close shortly before a year. Other pupils were drafted to the army, and by 1987 he had no students to teach and stopped archery, but spent his time by meeting pupils who visited him and going to the senior citizen center. One day, he was hospitalized from bad cold and asthenia and passed away on July 22, 1987, at the Red Cross Hospital of Seodaemun.
Master Song Duk-ki is not a figure who left a great achievement in the political or social field, but he is the only one who passed down our traditional martial arts, Taekyun, and it is enough to make his life precious and valuable. Especially, his athletic ability, brevity, and free spirit were the cornerstone to preserve Taekyun in its original form. Unfortunately, the posterity did not see the value and preciousness of Teaekyun and left Master Song too lonely. This still makes me feel embarrassed as the descendants of this land. We should not forget that what we need to learn is not simply the techniques of Taekyun, but the simple, folk-like, leisurely, and abundant taste and also the lofty spirit of our ancestors in it. I express my most profound respect to the deceased and pray for the right succession and great development of our traditional martial arts, Taekyun.